Christine O'Donnell: Is her latest campaign push working?
(Read article summary)
Christine O'Donnell, Delaware's Republican Senate nominee, has rolled out a tough message with a soft facade in her new campaign ad.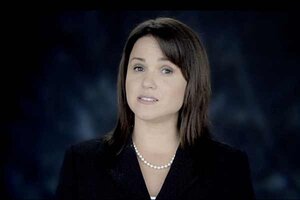 Christine4Senate YouTube screengrab
Christine O'Donnell this week has fired up her campaign, which seemed to go on a bit of a hiatus in the weeks following her surprise victory in Delaware's GOP Senate primary. She's shot and released several new slick TV ads, and made the rounds of local media for interviews.
On the one hand, she seems to be trying to regain control of her image, and soften and humanize herself enough to appeal to crossover Democrats and independent voters. Thus her first ad, released early this week, begins with her saying simply, "I'm not witch." (She's admitted to youthful experimentation with the dark arts, just in case you've been in total news withdrawal for a month and haven't heard.)
And her second ad, released Thursday, begins, "I didn't go to Yale." (Her opponent, New Castle County executive Chris Coons, did. Yale Law School, anyway.)
Both O'Donnell spots are quiet and simple, just her talking against a well-lit background, and end with her new catchphrase, "I'm you."
But the First State's GOP Senate hopeful can't get too soft if she is to keep hold of the insurgent voters who powered her to her surprise toppling of the favorite, Rep. Mike Castle, in the primary. So she's trying to maintain a tough underlying message with her new I'm-just-a-normal-non-witch-Delawarean approach.
---