Will Brown aide's slur of Meg Whitman tip California governor's race?
(Read article summary)
Recent polls had shown Jerry Brown opening a slight lead over Meg Whitman. Putting him on the defensive could give her a boost.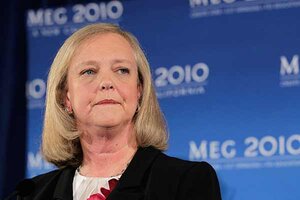 Jae C. Hong/AP/File
Someone from Jerry Brown's camp has been caught on tape using an extremely inelegant term to refer to opponent Meg Whitman. Will this remark make a difference in the already-heated California gubernatorial race?
Well, we won't know for some time whether it has an effect on the polls. The Brown-Whitman contest is already a boiling cauldron of charges and counter-charges, so the airing of the slur may make the tone of the campaign only marginally harsher.
But this slip by a Brown aide may give Whitman a much-needed chance to get past the issue of whether she knowingly employed an illegal immigrant as a housekeeper. For the media there's a new flap in town – what did Brown know about the use of this language, and how did he respond to it?
That might push the controversy between Whitman and her ex-employee, Nicky Diaz Santillan, out of the headlines for the moment. And with the election now only weeks away, and Democrat Brown opening a slight lead in the polls, even that slight respite might help Whitman, the GOP candidate and ex-eBay CEO.
---