'Dead aim' ad: Rifle-toting Senate hopeful blasts hole in cap-and-trade
(Read article summary)
Joe Manchin is a Democrat from West Virginia running for Senate, but in his new 'dead aim' ad, he takes on the White House, Obamacare, and cap-and-trade. It's an indication of how the traditionally Democratic state might be turning red. The seat is crucial to GOP Senate takeover aims.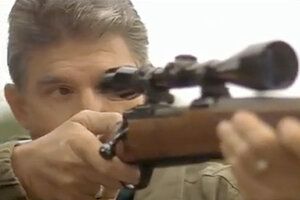 YouTube
If there's any doubt that West Virginia Gov. Joe Manchin is trying hard to convince voters that he's not a typical Democrat, just look at the latest ad from his Senate campaign.
Governor Manchin, dressed for hunting, strides through the woods as he loads his rifle. "As your senator, I'll protect our Second Amendment rights," he tells voters, adding that he'll take on "this administration," repeal "the bad parts of Obamacare," and reminding them that he sued the Environmental Protection Agency. At the end, he takes aim – literally – at the cap and trade bill, firing a shot through the legislation.
While West Virginia hasn't been getting as much attention as states like Nevada or Illinois, it's a crucial one for any Republican hopes to regain control of the Senate. And the latest polls – there haven't been many – show Manchin trailing Republican candidate John Raese by 6 points.
---