Christine O'Donnell: three ways she could turn things around tonight
(Read article summary)
Polls suggest Senate candidate Christine O'Donnell is 20 points behind Chris Coons in Delaware. If she's going to turn things around, she needs to start at Wednesday's debate.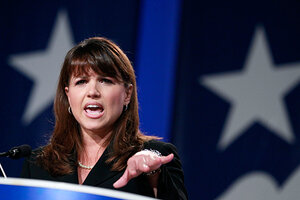 Manuel Balce Ceneta/AP/file
Republican Delaware Senate hopeful Christine O'Donnell will debate her Democratic opponent, Chris Coons, at the University of Delaware campus Wednesday night.
For Ms. O'Donnell, the math is stark: She's 20 points or so behind in the polls. That means that for her the debate is much more important than it is for Mr. Coons.
What could she do to try to turn things around?
First of all, don't act surprised by all the attention.
And there will be lots of attention – the first hour of the O'Donnell-Coons faceoff is scheduled to be broadcast live on CNN. When U of D started handing out tickets to students and the public on Monday, the line quickly burst free of the bounds of the Trabant University Center and extended outside, down the side of the building.
What's going on here? You'd think one of the participants in the debate was going to show up dressed as a ... New Castle County Executive. (That's Mr. Coons's current job.)
Second, define yourself.
Everybody's heard all those stories about witchcraft dabbling, and so forth, but Wednesday night will be O'Donnell's first and best chance to introduce herself to Delaware voters unfiltered. If her ads are any indication, she will continue to say of herself, "I'm you" – as in, "I'm a regular Delawarean." This approach would be helped by lots of references to regular-person stuff, like struggles with money and her nonownership of any Ivy League degrees. (Coons has two from Yale.)
---