Christine O'Donnell debate: Did anybody win?
(Read article summary)
She was poised and articulate. Her opponent showed mastery of policy. Here are three questions voters might ask after the Christine O'Donnell debate against Chris Coons in Delaware.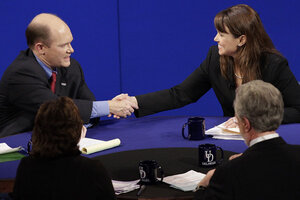 Rob Carr/AP Photo/Pool
Delaware GOP Senate hopeful Christine O'Donnell faced off against her opponent, Democrat Chris Coons, in a nationally televised debate Wednesday night. It was a big moment on a big stage for someone whose first general election television ad opened with her saying, "I am not a witch."
So, how did she do?
Well, Ms. O'Donnell definitely did not turn into a pumpkin, if you'll allow a little mixing of metaphors. She was poised, articulate, and rattled off her talking points like a pro. In that sense, she surpassed expectations.
Take the Monitor's Christine O'Donnell quiz
But Mr. Coons was no slouch either. Coons, New Castle County executive, at times delved so deeply into policy detail that he sounded as if he was on stage at a Brookings Institution seminar. If nothing else, the Delaware Senate debate will probably be the only time CNN has ever broadcast live a discussion of Delaware county bond ratings.
---