Sarah Palin kick-starts final Tea Party Express bus tour of 2010
(Read article summary)
Tea Party Express launches its last tour of the 2010 campaign in (guess where) Sen. Harry Reid's home state of Nevada with an event headlined by (guess who) Sarah Palin.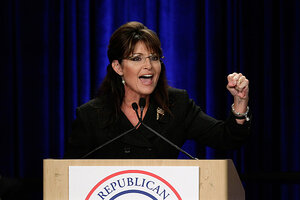 Jae C. Hong/AP
It shouldn't be a surprise that the Tea Party Express is kicking off its fourth – and final – bus tour Monday in Nevada, home of perhaps its biggest target, favorite candidate, and a race that has been neck-and-neck for weeks.
Or that it's launching its tour, as it has in the past, with an appearance by Sarah Palin.
Ms. Palin is headlining the event in Reno, Nev. Monday morning, just as she did at the opening event of the Tea Party Express's last bus tour, which began this past March in Searchlight, Nev., hometown of Senate Majority Leader Harry Reid.
IN PICTURES: Sarah Palin's fashion
The new tour will then make three more stops over two days in Nevada to lend its support to Senator Reid's opponent, Republican Sharron Angle, who largely owes her primary victory to the group.
The tour will continue with a packed schedule over the next two weeks that will make 30 stops in 19 states and include a majority of the most closely watched races and favorite "tea party"-backed candidates.
---