Joe Miller a no-show: Was Alaska Senate debate worth it?
(Read article summary)
Monday night's Alaska Senate debate was missing Joe Miller, the Republican nominee. That left write-in candidate Sen. Lisa Murkowski to field some tough questions.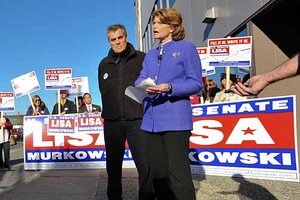 Michael Dinneen/AP
Joe Miller didn't show up to the Alaska Senate debate last night. So was the debate less than a real one, since it was missing the Republican Party candidate?
Not really, as it turns out. Incumbent Sen. Lisa Murkowski, who is running as a GOP write-in, and Democrat Scott McAdams went at each other pretty well. The debate – sponsored by the Alaska Dispatch, an online news magazine – featured lots of tough questions from moderators and audience members alike, eliciting some interesting answers. (More on that in a second.)
As for Mr. Miller, who beat Senator Murkowski in the Republican primary, "no one seemed to miss him," wrote the Dispatch in its coverage of the event.
(Miller had not planned to be there – it isn't as if he just didn't show up. He had a long-standing scheduling conflict, said a spokesman.)
However, the "tea party" favorite Miller claims the Dispatch is covering him in an unfairly negative way. And on Sunday, an editor from the Dispatch was handcuffed by Miller's security guards and detained for a half-hour. The guards alleged that the journalist had been too aggressive in his attempts to question the candidate.
As for the debate itself, Murkowski had to face two of the main issues that have dogged her write-in effort.
First of all: what does she feel about the fact that she inherited her seat in the first place? After her father Frank Murkowski was elected governor in 2002, he appointed her to his old Senate seat.
---