Alex Sink cheats in Florida debate. Will it matter?
(Read article summary)
During a commercial break in a debate with Florida gubernatorial candidate Rick Scott Monday night, Democrat Alex Sink received a text message from an aide. The 'foul' may be a touchstone for some voters.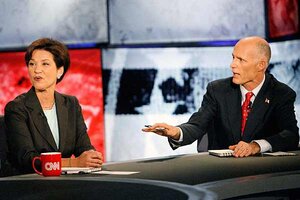 Scott McIntyre/AP
Yes, Alex Sink cheated in Monday's Florida gubernatorial debate. It was inadvertent, apparently – during a break, the Democratic candidate's make-up artist handed her a smartphone showing a two-line message from a campaign aide.
Republican opponent Rick Scott was all over the mistake ("That was a foul, ref! She was offsides! Offsides!") and talked about it after the debate went back on the air.
"Alex, you say you always follow the rules," said Mr. Scott, a former health-care executive. "The rule was no one was supposed to give us messages during the break, and your campaign did."
IN PICTURES: Election Photos of the Week 10/17 - 10/24
There was not much Ms. Sink could do there. She was caught red-handed with the offending text-capable communications device. After the debate, she fired the aide in question.
"After the debate tonight, one of my campaign advisers admitted he tried to communicate with me during one of the breaks... it was a foolish thing to do. It violated a debate agreement and I immediately removed him from the campaign," said Sink in a statement.
---