WWE garb allowed at polls, Connecticut judge rules (whew!)
(Read article summary)
WWE CEO Vince McMahon sued to make sure supporters of his wife Linda McMahon wouldn't run afoul of electioneering rules if they wore WWE merchandise to the polls.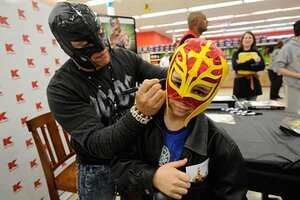 Peter Barreras/AP
If you're a Stone Cold Steve Austin fan who's registered to vote in Connecticut, we've got great news! A federal judge has ruled that it's OK for you to dress up like your hero when you go to the polls to cast your ballot next Tuesday.
No, we're not making this up. On Wednesday US District Judge Janet Bond Arterton ruled that Nutmeg State election officials must allow voters to wear World Wrestling Entertainment-themed clothing to the polls.
Such garb cannot be considered political advertising for former WWE CEO and current Connecticut GOP Senate candidate Linda McMahon, said Judge Arterton.
So in this instance at least it appears that the US judiciary fully supports a constitutional right to bare arms.
"I am pleased that Connecticut voters have had their freedom of expression to wear WWE merchandise and their right to vote restored," said current WWE CEO Vince McMahon, Linda McMahon's husband.
OK, OK, we're aware that this case is not really about voters who possibly want to look like a wrestler per se. It's about those who might be wearing even a WWE logo on a T-shirt within 75 feet of the polls.
---