Election 2010 closing arguments: Is GOP a step back or forward?
(Read article summary)
With one day to go until Election 2010, President Obama exhorts voters not to give the keys of power back to the GOP. House minority leader John Boehner says Republicans have changed.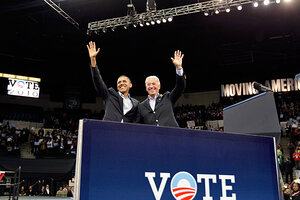 J. Scott Applewhite/AP
With Election 2010 now only hours away Democrats and Republicans are making their closing arguments. The time for rallies and ads is almost over. To the two big parties that govern America, the thing that matters most now is making a last emotional appeal to voters before the doors of polling places all across the country swing open on Nov. 2.
To try and get an idea of what those emotional appeals are, we'll contrast the final campaign stops of President Obama and Rep. John Boehner (R) of Ohio, who as the current minority leader likely will become Speaker of the House if the GOP, as expected, wins control of the chamber.
DEMOCRATS. At a campaign stop in Cleveland in Sunday, Mr. Obama employed a metaphor he's used often this fall. He talked about the US economy as a car – a car that the Republicans drove into a ditch at the end of the Bush administration.
That ditch of a recession is deep, so deep "we had to put our boots on, we had to rappel down," said Obama on Sunday. But after much hard work and sweat, the Democrats got the car back up to level ground. Republicans did not help, but just stood on the lip of the ditch, criticizing the administration's efforts.
---