Amid big Republican gains, House gets more polarized
(Read article summary)
Moderate and conservative Democrats were hit particularly hard on election night, despite the fact that many opposed Obama administration initiatives.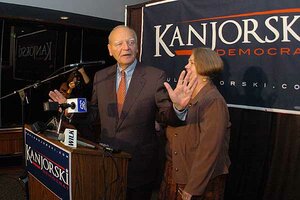 Mark Moran/AP
It's been a bad night for Democrats in the House, where Republicans are poised to pick up between 60 and 75 seats – the biggest gain by any one party in an election since 1948.
But in particular, it's been a bad night for moderate and conservative Democrats, who saw their ranks in Congress decimated in race after race.
Longtime, once-impervious incumbents fell: John Spratt in South Carolina. Ike Skelton in Missouri. Paul Kanjorski in Pennsylvania. Rich Boucher in Virginia.
In many cases, those Democrats lost despite amassing relatively conservative voting records and opposing key Obama Administration initiatives.
At the same time, it was a banner night for many conservative, tea-party-anointed Republican candidates.
The result: Even more polarization in an already polarized House.
"The Democratic caucus in the House is going to be much more liberal," Larry Sabato, director of the University of Virginia's Center for Politics, told Fox News. "The moderates, the Blue Dogs, were slaughtered."
---