California backs Jerry Brown, Barbara Boxer to reject rolling GOP tide
(Read article summary)
California voters gave Democrats Jerry Brown and Barbara Boxer seats in Sacramento and the US Senate Tuesday, rejecting the inexperience – and the money – of Meg Whitman and Carly Fiorina.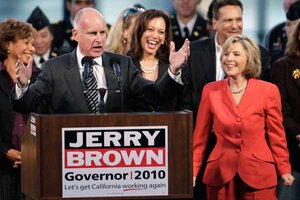 Paul Sakuma/AP
While election night largely belongs to Republicans, Democrats appear to have notched two big wins in California.
Based on exit polls and ballots counted so far, CNN, the Los Angeles Times, and other media outlets are projecting that incumbent Sen. Barbara Boxer will retain her seat, while Jerry Brown will return after more than 20 years for a third term as the state's governor.
In both cases, despite the national trend against political insiders, California voters chose veteran politicians over newcomers to public office, and in both cases voters rejected wealthy Republicans who'd run major corporations – gubernatorial candidate Meg Whitman and Senate candidate Carly Fiorina led eBay and HP, respectively.
Both races were hard-fought, and both were very close until the last few weeks when polling moved toward the Democrats.
---