Harry Reid wins reelection. Will the Senate leader wish he'd lost?
(Read article summary)
Harry Reid is likely to serve again as Senate majority leader, but the Senate's role in national policy will be much different than it was over the past two years.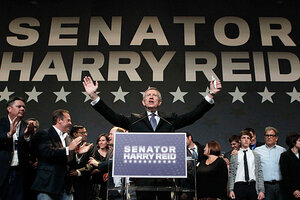 Jae C. Hong/AP
Harry Reid won his Nevada Senate race – barely. He'll likely serve Democrats as Senate majority leader for another term. But Washington's political environment, and the Senate's role in national policy, will be much different than they were over the past two years. Will there be difficult days when Senator Reid wishes he had lost?
Well, probably not literally – few politicians want their careers ended via defeat. We're guessing there will be days when he thinks fondly of retirement, however. With a reduced Democratic majority, Reid in coming months will have much less control over the Senate agenda. Plus, he's facing years of playing defense against Republican-initiated bills that have passed a GOP-controlled House.
After all, it's not just the Democratic Party that has lost power. The Senate as an institution may have, too. Presumptive House Speaker-to-be John Boehner (R) of Ohio has a firm grip on his chamber and a long to-do list, and appears set to drive Washington's legislative agenda. The Senate may be forced back into the role envisioned for it by the Founding Fathers, serving as a chamber that reflects upon what the other chamber has done.
Remember the famous story? When Thomas Jefferson asked George Washington why the Constitutional Congress had created the Senate, the latter replied, "We pour legislation into the senatorial saucer to cool it."
Reid already is talking like a politician who knows that times have changed. In post-election interviews, he's said he's willing to make "tweaks" in President Obama's health-care legislation, for instance. He might be more defiant on this subject if he were assured of keeping 58 or 59 seats in Democratic hands.
---