Is Marco Rubio brightest rising star of tea party?
(Read article summary)
Florida senator-elect Marco Rubio will head to Washington as a tea party favorite, but his political experience and immigrant background make him a different kind of tea partyer.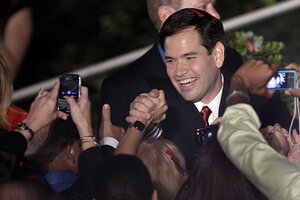 Alan Diaz/AP
Marco Rubio's is young, articulate, conservative, and as of Tuesday night, a Senator-elect from Florida. Is he the tea party's brightest rising star?
Well, he's not a national leader of the loosely-organized political movement, like Sarah Palin or Sen. Jim DeMint (R) of South Carolina. He may not have the name recognition of Kentucky senator-elect Rand Paul.
But Mr. Rubio is a tortoise who steadily worked his way to victory over the early leader in the Florida Senate sweepstakes, Republican-turned-Independent Gov. Charlie Crist. As a former Speaker of the Florida state House, he has more experience in governing than do many other conservative insurgent candidates. And as the son of parents of modest means who began his higher education at community college, he has a compelling personal story he uses to emphasize his belief in the promise of the American dream.
---