In India, Gibbs risks life (well, limb anyway) for White House press corps
(Read article summary)
Robert Gibbs, the White House press secretary, literally gets a foot in the door for the press corps trying to cover President Obama's visit to India.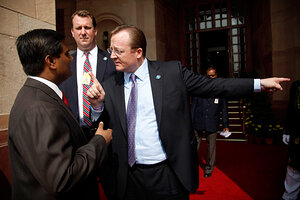 Jason Reed/Reuters
Robert Gibbs, the White House press secretary, isn't always the most popular guy in the briefing room. He can be obtuse, and at times exasperating, in the face of all those pesky reporters trying to get him to say something clear and quotable, maybe even honest.
But when the going gets tough, Gibbs is The Man. Consider what just happened in New Delhi: For reasons still unknown, Indian officials decided that only five of the eight reporters from the White House "pool" – a small group of reporters representing the larger US press corps – should be allowed in to a photo op before a bilateral meeting (or "bilat") between President Obama and Indian Prime Minister Manmohan Singh.
Enter Mr. Gibbs, who ripped off his dress shirt, revealing the big "S" on his undershirt, and started smashing heads. Well, not really. But we hear the situation did get heated, and Gibbs did behave like a Papa Grizzly on behalf of his charges.
According to the print pool reporter, Scott Wilson of the Washington Post, White House press aide "Katie Lillie and other US officials lobbied hard for the eight, but no luck until Gibbs announced loudly and persistently on steps of Hyderabad House that he would pull POTUS [Mr. Obama] out of bilat with PM Singh unless 'the White House 8,' as we've come to be known, were all allowed in."
---