Murkowski versus Miller: election or spelling bee?
(Read article summary)
Lawyers for Joe Miller, the tea party-backed US Senate candidate from Alaska, have sued to keep election officials from inferring the intent of voters who misspell write-in candidate Lisa Murkowski's name.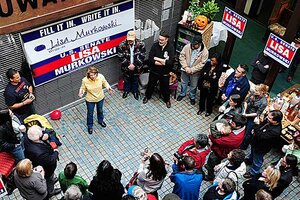 Chris Miller/AP
Lisa Murkowski versus Joe Miller started as a contest for an Alaska Senate seat – but it may end up as a spelling bee.
On Wednesday Alaska election workers were scheduled to begin scrutinizing the more than 92,000 write-in ballots that will determine who wins the state's contested Senate vote. If officials determine that enough of these say "Murkowski" or "Merkowski" or "Murcowski," or some other identifiable variant of incumbent Republican Sen. Murkowski's name, then she'll (improbably) win reelection as a write-in over Mr. Miller, who won the GOP primary.
That's quite probable, too, as write-ins constituted 40 percent of the submitted Alaska Senate ballots and Miller took 35 percent.
But Alaskans' spelling ability is a big issue here. Miller on Tuesday sued to stop the state from using its own judgment to try and determine who individual write-in voters meant to support. Unless ballots are filled out perfectly – the circle indicating it's a write-in marked in, and "Lisa Murkowski" spelled correctly – they shouldn't count, argue Miller's lawyers.
In fact, misspellings should be counted against Murkowski, as they could be protest votes, according to the lawsuit.
Alaska Lt. Gov Craig Campbell, the person in charge of the matter, ruled that the count should proceed Wednesday as planned. The state will try to determine the intent of each write-in vote, according to Campbell. So relatively minor misspellings are OK. For now.
---