Behind the meteoric rise in campaign spending
(Read article summary)
Billions of dollars were spent in campaign financing this year, and much more is predicted for 2012. Candidates already are scrambling for dollars, with particular focus on large donors.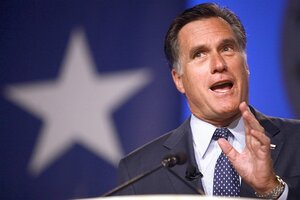 Jacquelyn Martin/AP/File
The crucial subtext in the 2010 midterm elections is money – hundreds of millions of dollars spent in record-breaking amounts. Actually, that should be "billions" – probably topping $4 billion this year.
And it's not just on the well-known races for the US House of Representatives and the US Senate, several of which featured humongous personal sums from the pockets of wealthy candidates. (More records broken.)
At the state level, campaign spending topped $2 billion – or to be precise $2,075,394,657 on statewide races across the country.
RELATED: Outside groups dominate 2010 campaign spending
The figure comes from the National Institute on Money in State Politics, a nonpartisan, nonprofit organization in Helena, Montana.
It's a terrific resource which collects reports submitted to agencies by all candidates for statewide office, including legislatures, state supreme courts, major political party committees, non-bond ballot measure committees, and lobbyists. Check out your own state or legislative district at FollowTheMoney.org.
With the reporting barely complete for 2010 (and some very close races yet to be decided) it seems certain that the 2012 presidential election year will be another record buster, topping the $5.3 billion spent in 2008. Or as the headline on an Associated Press story puts it, "Too much money in politics? Ain't seen nothing yet."
There's another way to look at it, and that's how much candidates spent to win each vote.
---