What's at stake in Charles Rangel ethics trial?
(Read article summary)
Rep. Charles Rangel walked out of a rare House ethics panel hearing Monday, saying he was being denied representation. Republicans could end up using the ethics flap against Democrats.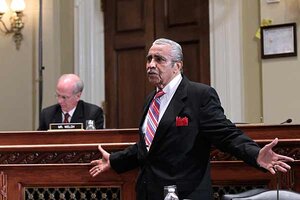 J. Scott Applewhite/AP
Rep. Charlie Rangel faces a House ethics trial this week – though the venerable New York Democrat himself may not be present. He walked out of the proceedings on Monday after an eight-member ethics panel denied his request for a delay so he could hire new lawyers.
But the trial will go on nevertheless. Mr. Rangel has already resigned his Ways and Means Committee chairmanship due to allegations of personal financial and political fundraising misconduct. So what else is at stake in these rare proceedings?
For Rangel, the thing that may be most at risk right now is his reputation. First elected to Congress in 1970, Rangel's genial personality and negotiation smarts helped him rise to the heights of US power. He has long been a behind-the-scenes force in New York state politics as well as a key Capitol Hill dealmaker. A conviction on ethics charges would be a substantial blot on his career.
"Fifty years of public service is on the line," said Rangel in his emotional opening statement before the ethics panel on Monday.
But Rangel's seat in Congress may not be at issue in the trial – at least, not yet. He handily won reelection in this month's midterm election despite the ethics charges against him. While it is possible that the ethics panel could recommend expulsion from the House as a punishment, the full House would then have to vote on the matter. A four-person ethics investigatory panel previously concluded that a formal reprimand would be the most suitable punishment for Rangel's infractions. (The House would have to vote on that, as well.)
---