Senate ban on budget earmarks: Can it really work?
(Read article summary)
Pressure on senators to direct money to their states can be tremendous, whether it's done by budget earmarks or some other way. Appropriations bills are only one avenue to deliver the goods.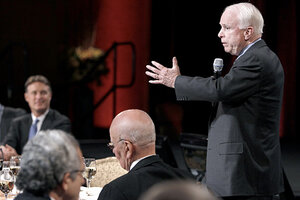 Hyungwon Kang/Reuters
A bipartisan group of four US senators announced Tuesday that they'll push for a vote on a plan to ban earmarks. The lawmakers involved – Republicans John McCain of Arizona and Tom Coburn of Oklahoma, and Democrats Claire McCaskill of Missouri and Mark Udall of Colorado – want a moratorium on earmarks to go into effect immediately and last at least through 2013.
"Earmarks are not only wasteful but are terrible distractions for both parties. The sooner we get rid of earmarks the sooner we can go to work on the difficult task of getting our budget under control," said Senator Coburn in a statement on the group's effort.
This hands-across-the-aisle move is only the latest in a series of things indicating that earmarks, or pet projects of lawmakers, may be about to end. Senate minority leader Mitch McConnell (R) of Kentucky, a longtime defender of earmark spending, has switched sides, for instance, and now supports a ban. So does President Obama.
---