Obama pardons Thanksgiving turkeys: no 'shellacking' this day
(Read article summary)
President Obama pardoned turkeys 'Apple' and 'Cider' at the White House Wednesday morning, but the two won't be making what had become a traditional trip to Disneyland.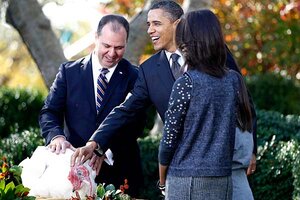 Charles Dharapak/AP
President Obama deployed a little self-deprecating humor as he pardoned the national Thanksgiving turkey and its understudy Wednesday.
"Now, for the record, let me say that it feels pretty good to stop at least one shellacking this November," Mr. Obama said, his daughters at his side, referring to the beating Democrats took in the Nov. 2 midterm elections.
This year, the 63rd anniversary of the national Thanksgiving Turkey presentation, Obama pardoned Apple and Cider. According to the White House, the birds are 21 weeks old, weigh 45 pounds each, and hail from Foster Farms Wellsford Ranch outside Modesto, Calif. They were named by California schoolchildren. No word on what exactly the birds had done wrong, but they were reportedly relieved to escape the death penalty.
---