WikiLeaks' Julian Assange: Does Sarah Palin think CIA should 'neutralize' him?
(Read article summary)
On Twitter and Facebook, Palin criticizes the Obama administration's handling of the 'WikiLeaks Fiasco' and asks why Julian Assange is not treated like an Al Qaeda or Taliban leader.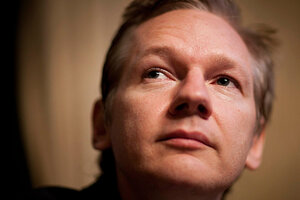 Valentin Flauraud/Reuters/File
Sarah Palin says WikiLeaks committed a "treasonous act" with its document dump of US diplomatic secrets. Furthermore, on her Twitter feed Tuesday she said Congress should prod the Obama administration to use "all necessary means to respond to and defeat WikiLeaks."
Whoa. Is Ms. Palin, saying that the US should treat WikiLeaks founder Julian Assange as a target to be snatched off the streets somewhere by the CIA? Or maybe even, um, neutralized, so to speak?
That may be the case. And she would not be the only Republican public figure calling for such action.
First off, let's get the treason thing out of the way – treason is generally defined as a crime that undermines one's own government, and that means Assange in particular and WikiLeaks in general can't be treasonous in the context of United States interests. Assange is Australian, and WikiLeaks is a stateless computer cloud. It's possible that the document leak damaged Australian interests, so perhaps Assange committed treason in that sense. But he'd have to be tried for that Down Under. If he ever shows up there.
---