Hammered in the Senate, Democrats must negotiate on tax cuts
(Read article summary)
After two Saturday votes, Obama and Democrats in Congress are forced to negotiate over Bush-era tax cuts, now more likely to be extended for all Americans – including the wealthy.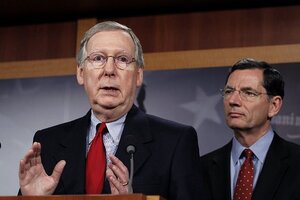 Harry Hamburg/AP
Washington Saturday was a picture of frustration and gridlock over government spending and taxes.
But the lack of specific legislative progress also brought signs that the negotiating parties – Republicans and Democrats, Congress and the White House – may be headed for some sort of compromise.
Still, Republicans definitely have the upper hand – at least in the short run. Time (and the 2012 elections) will tell whether GOP lawmaker's focus on tax breaks for the wealthy is a political winner or not. Judging by the increased grumbling on his left flank, it cannot be a happy time for President Obama – particularly in the wake of the "shellacking" he took in last month's midterm elections.
Specifically, two Saturday votes in the Senate did not go well for Democrats.
The first would have let expire the Bush-era tax cuts for individuals with incomes above $200,000 (and for couples filing jointly and earning more than $250,000 a year). That fell seven votes short of the 60 needed to block a filibuster (including five Democrats). As he has since first running for the White House, Obama wanted to limit those tax cuts to poor and middle-class Americans – the position approved by the House earlier in the week.
The second vote Saturday would have extended the tax cuts for those making less than $1 million a year. That, too, fell seven votes short of passage.
Just back from a quick and unannounced trip to Afghanistan, Obama said, "We need to redouble our efforts to resolve this impasse in the next few days to give the American people peace of mind that their taxes will not go up on January 1."
---