Sarah Palin versus Republican 'blue bloods'
(Read article summary)
Is the establishment GOP ganging up on Sarah Palin? In the ongoing drama that is Palin's political reality show, score this past week "Blue bloods 3, Palin zip."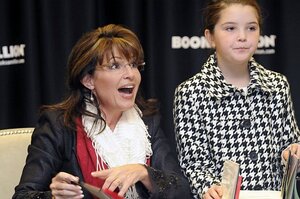 Virginia Postic/AP
In the ongoing drama that is Sarah Palin's political reality show, score this past week "Blue bloods 3, Palin zip."
Joining the growing number of conservatives critical of Palin were former Republican congressman (now MSNBC host) Joe Scarborough, Republican campaign consultant Ed Rollins, and columnist George Will.
You could say she asked for it – lumping George H.W. and Barbara Bush with "the blue bloods who want to pick and choose" who should be on the Republican presidential ticket. In her wry way, the former first lady had suggested that Palin should stay in Alaska rather than run for the White House.
How well do you know Sarah Palin? Take our quiz.
Earlier, the former Alaska governor seemed to suggest that she was in the same league with the Republican icon who also had been an entertainer. (See "Sarah Palin's Alaska" on the Discovery Channel's TLC affiliate.)
"Wasn't Ronald Reagan an actor?" she asked on Fox News. "Wasn't he in 'Bedtime for Bonzo,' Bozo, something?"
---
Follow Stories Like This
Get the Monitor stories you care about delivered to your inbox.