Obama on 'Mythbusters': What happened with his 'death ray'?
(Read article summary)
President Obama's Mythbusters challenge didn't go as hoped – the 'solar death ray' myth he had the show tackle was, in the show's terms, 'busted,' despite the help of hundreds of San Francisco students.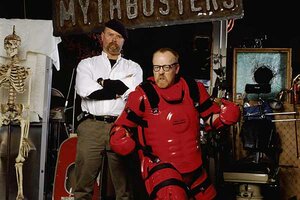 Courtesy of Mythbusters/Discovery
President Obama's "viewer challenge" was busted on "Mythbusters" last night. He'd charged hosts Jamie Hyneman and Adam Savage with examining the ancient legend of Archimedes' solar death ray – supposedly, the Greek scientist used giant mirrors to reflect sunlight towards attacking Roman ships around 212 BC, setting them aflame.
The Obama twist was to use hundreds of mirrors, held by hundreds of San Francisco-area students, to try and light a mock trireme on fire. Change we could believe in! Hope of conflagration! The 2012 campaign is starting early.
It didn't work, though. The many, many mirrors, jiggling constantly as the teenagers squirmed while aiming, just couldn't combine into one ray that was focused enough to truly heat up the fake ship's sail. They got it up to 260º degrees Fahrenheit or so, which is pretty hot, but not nearly hot enough for ignition.
---