Sarah Palin hunting: Why the world shakes when she shoots a caribou
Sarah Palin hunting: Some commentators see a political commentary in Sarah Palin hunting caribou on 'Sarah Palin's Alaska,' calling the caribou, 'Obambi.' Others see animal cruelty. To hunters, though, the furor shows that urban America doesn't understand rural life.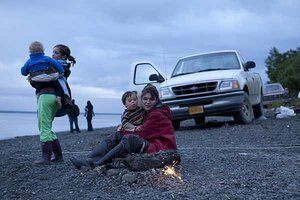 Gilles Mingasson/Discovery Communications/AP
A caribou peeks over a ridge in the north Alaskan tundra. Shots ring out, the animal collapses.
It's a familiar scene on cable hunting shows, but this time, with Sarah Palin hitting the target on the widely watched TLC program, "Sarah Palin's Alaska," the kill shot became so much more. A "snuff film," fumed Hollywood producer Aaron Sorkin. "An allegory for politics" with "Obambi" representing "the elegant animal standing above the fray," posits The New York Times' Maureen Dowd.
The scenes playing out on "Sarah Palin's Alaska" – including her clubbing a large halibut, per common fishing practice – have goaded liberals to attack the former vice presidential candidate for exploiting animals for her own political purposes. But they also raise a deeper question: how much do urban and rural America – blue and red America – understand each other, or even want to?
Quiz: How well do you know Sarah Palin?
The rural-urban divide on issues of conservation and hunting "is an interesting sociological experiment you're watching, the unfolding of a real debate going on," says Gary Lawson, a spokesman for US Sportsmen's Alliance, a pro-hunting group.
---