Health care ruling: Are Obama's reforms in trouble?
(Read article summary)
A federal judge rules that the central element of Obama's health care law violates the Constitution. Republicans are touting the ruling as a victory, but it might not be long-term.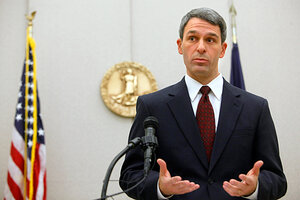 Alexa Welch Edlund/Richmond Times-Dispatch/AP
A federal judge on Monday ruled that the US government cannot require people to buy health insurance. The decision may well be a problem for the Obama administration – at least for now.
The ruling likely will energize Republicans working to repeal or significantly amend the legislation, for one thing. Many in the GOP were almost gleeful after US District Judge Henry Hudson issued his finding that the so-called "individual mandate," which requires Americans to buy health insurance by 2014 or face a fee, violates the Constitution.
The Republican National Committee quickly forwarded wire stories about the decision to everyone on its press list. GOP leaders followed up with their own releases, tweets, and postings. For his part, expected incoming House Speaker John Boehner on his Facebook page noted the decision and vowed to fight the bill when the new Congress convenes. "Republicans will make good on our pledge to America [and] fight to repeal ObamaCare," he wrote.
---