Health care ruling: What will White House do now?
(Read article summary)
On Monday a federal judge struck down the health care law's requirement that people obtain health insurance. The Obama administration will likely push ahead with implementing the law, though.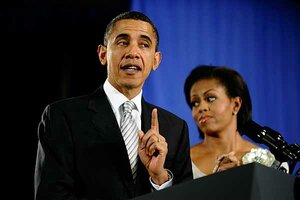 Newscom
A federal judge on Monday declared a key provision of President Obama's health care law unconstitutional. The ruling energized Republicans who hope to repeal or limit the legislation, and ensures that health care will remain a contentious political issue for months, perhaps years, to come.
That's not the way Obama hoped things would turn out when he signed his signature health reforms into law. Given the new political realities of health care, what's the White House going to do now?
The first thing the administration is likely to do is push hard to write regulations and implement the law as fast as it can. Judge Henry E. Hudson's ruling struck down only the law's requirement that individuals obtain health insurance. He specifically said that the roll-out of health care reform can continue, given that the so-called "individual mandate" would not take effect until 2014.
---