Obama vacation: What flavor shave ice will he order?
(Read article summary)
President Obama joined his family in Hawaii late Wednesday, anticipating an 11-day vacation. Forget tax-cut deals and nuclear weapons treaties. The Obama vacation is all about shave ice.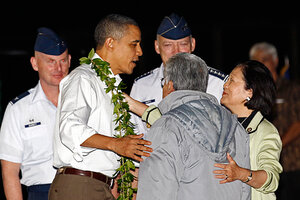 Kevin Lamarque/Reuters
President Obama has made it to Hawaii to join his wife, daughters, and dog on vacation. He arrived just before midnight Wednesday, local time, after winging in on Air Force One from Washington following a press conference. In his first official act of relaxation, he donned a green lei after he stepped off the plane.
Now all the US political world is holding its breath as it awaits the results of an important policy decision the president is likely to make at some point during his projected 11 days in an island paradise.
The question facing Obama is this: What flavor of shave ice will he pick at Island Snow?
Ronald Reagan cleared brush at his California ranch during his breaks, and George H.W. Bush terrified the Maine sea life by roaring about in a sleek power boat. Bill Clinton played golf and talked while on vacation, and George W. Bush rode his bike on his Texas acres. Mr. Obama, on the other hand, takes his girls out for a frozen dessert-like substance. It's a tradition.
---