Obama vacation book list: Is he reading up on bipartisanship?
(Read article summary)
Obama vacation activities often include reading, and his book list apparently includes one on GOP icon Ronald Reagan. If nothing else, the book could offer valuable lessons on leadership style.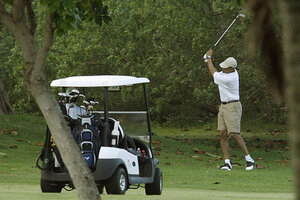 Hugh Gentry/Reuters
News Alert! This just in: President Obama on his Hawaii vacation may be engaging in activities hinting that he'll take a more bipartisan approach to governance in the new year.
OK, we're reaching a little bit here, but reading is a big thing for Mr. Obama when he relaxes, and his book list apparently has on it at least one very interesting title: "President Reagan: The Role of a Lifetime," by Lou Cannon.
This is not just a book about a president beloved by just about every member of the modern GOP – it's probably the best Reagan book yet written. (Yes, there was an official biography undertaken by the very competent historian Edmund Morris, but that ended up as a seminovelistic account that most reviewers found odd.)
Mr. Cannon, a journalist, first covered Reagan when he ran for California governor in 1966, and then followed him to Washington. If Obama actually reads this book, instead of a George Pelecanos mystery or old "OK!" magazines that are lying around his rented mansion, he'll learn a lot about Reagan's mastery of the style of the presidency – and how that mastery of style becomes substance.
---