Christine O'Donnell: Why she's no Sarah Palin
(Read article summary)
Christine O'Donnell, who faces allegations of improper use of campaign funds, seems to be cut from the same cloth as Sarah Palin. Where they may differ is the ability to withstand adversity.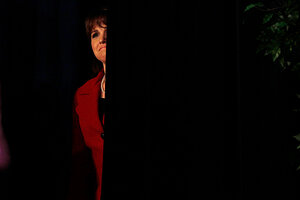 Jason Reed/Reuters
From the moment Christine O'Donnell burst onto the political stage, she has drawn comparisons with Sarah Palin. The unsuccessful 2010 Republican nominee for Senate in Delaware, like the GOP's 2008 vice presidential nominee, is a young, female, telegenic, tea party conservative, who knows how to connect with voters.
During the campaign, Ms. O'Donnell seemed to play up the physical similarities, with her Palin-esque clothes, hair styles, and glasses. In restaurants, O'Donnell even orders what Ms. Palin orders – or at least that's the joke among some conservatives.
Palin duly endorsed O'Donnell, right before her primary upset of Republican establishment favorite Rep. Mike Castle, adding her to her den of "mama grizzlies."
The postelection O'Donnell, who lost by 17 points to New Castle County Executive Chris Coons (D), is following another Palin-like trajectory. She didn't get a gig on Fox, but she got a book contract and she's starting a political action committee – Christine PAC (to Palin's Sarah PAC). Her goal is to support like-minded conservatives and stay in the political game.
---