GOP push for repeal of health reform: Is it politically wise?
(Read article summary)
House Republicans who ran on a pledge to undo health reform are promising a repeal vote soon. But could it ever pass the Senate or survive a veto? And would it anger voters?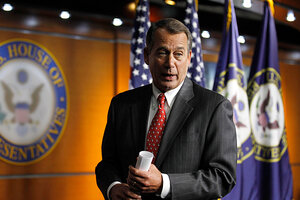 Alex Brandon/AP
House Republicans plan to start the New Year with a splash: they say that they'll vote to repeal President Obama's signature health-care overhaul before his upcoming State of the Union address.
Talk about firing a cannon across a ship's bow. Such a quick move could presage a season of aggressive GOP action.
True, it would be a fulfillment of campaign pledges from the 2010 mid-terms. Many Republicans ran on a promise to rein in Obama's agenda in general, and to undo health-care reform in particular. But is it really a wise thing to do, politically-speaking, given that Democrats retain control of the Senate, and Obama's got his veto pen already waiting on his desk?
After all, Republicans hammered Obama and the Democrats for spending so much time on the health-care bill instead of focusing on jobs and the economy. That charge seemed to resonate with voters. (Can you say, "Speaker Boehner"?) Now they're kind of doing the same thing. It's like they're making revenge their first order of legislative business, instead of progress.
---
Follow Stories Like This
Get the Monitor stories you care about delivered to your inbox.