Obama's shave ice order: A sign of bipartisanship?
(Read article summary)
Does the president's flexibility on shave ice flavors show an openness to compromise as the Republicans take control of the House?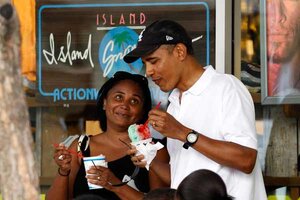 Kevin LaMarque/Reuters
President Obama is back in Washington after his two-week vacation in Hawaii. No doubt it's going to be tough for him to turn his mind back to work. Who wouldn't have trouble with that transition? He's trading shorts, balmy breezes, and blue skies for bare trees and the imminent ascendance of Republicans to power in the House.
But we believe he's showing subtle signs that his mind is in a different place and he intends to bend – somewhat – to Washington's new power calculus.
What's our evidence? Two words: shave ice.
Shave ice is a frozen treat made from the finest all-natural ingredients. It's like a snow cone that went to college and got an advanced degree in delicious. Obama and his family go to a local landmark named Island Snow for shave ice whenever they're in Hawaii. It's a tradition of presidential relaxation – like Ronald Reagan chopping wood at his ranch.
Usually Obama orders the same shave ice flavor combination: guava orange, cherry, and lemon-lime. He's been so predictable about this that Island Snow has dubbed that particular mix the "Snowbama."
---