What has House GOP done to cut budgets so far?
(Read article summary)
The new set of House rules requires that new spending be offset by cuts, not new revenues. And members are supposed to roll back spending by their own offices, too.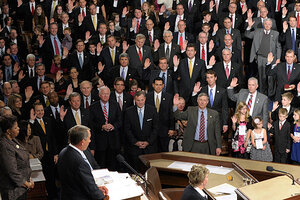 Susan Walsh/AP
New House Speaker John Boehner and his fellow Republicans have promised that cutting government spending will be job one in the new Congress. Well, time's a-wasting! They've been in charge of the chamber for a whole day. What have they done to reduce Uncle Sam's outflow?
Well, the first thing they've accomplished is to pass a set of new House rules intended to make it a lot harder for appropriations to rise. Stopping the thing that got you into trouble in the first place is the first step on the road to recovery, right?
The old House rules had a general "pay as you go" clause, which required that the cost of all new bills be covered by either spending cuts or revenue increases. The new GOP-produced rules ditch the revenue part and require bills to be paid for via budget cuts only.
According to a House Rules Committee explanatory document, the new rules prohibit "consideration of a bill, joint resolution, conference report, or amendment that has the net effect of increasing mandatory spending within a five-year or ten-year budget window."
It will also be out of order for the House to even consider a budget resolution that "would have the effect of increasing net direct spending," according to the Rules panel.
Second, the House is set Thursday to roll back its own internal spending. Members are scheduled to vote on a resolution that would reduce the amount authorized for salaries and expenses of member, leadership, and committee offices in 2011 and 2012.
This resolution is already up on the Rules Committee website, and it is pretty straightforward. In general, it reduces those aforesaid spending categories to 95 percent of 2010 levels.
---