Bruce Reed: Another Clinton centrist joins Obama White House
(Read article summary)
Bruce Reed will be Vice President Biden's new chief of staff. He was a senior aide to President Clinton and a leader in centrist Democratic policy circles. Does this bode ill for liberals' agenda?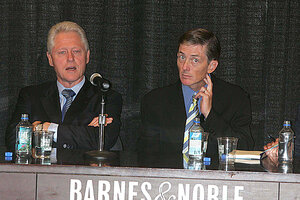 ZUMA Press/Newscom
The Obama White House is beginning to look like a reunion of the Clinton administration. On Friday, Vice President Joe Biden announced that Bruce Reed will be his new chief of staff.
Though not a household name, Mr. Reed is well known in Washington for his role as a senior aide to President Bill Clinton and for his continued leadership in centrist policy circles. He recently served as executive director of President Obama's bipartisan deficit commission, and since 2001 has been chief executive officer of the centrist Democratic Leadership Council.
"I've known and admired Bruce for over 20 years," said Mr. Biden in a statement. "We worked closely together to pass the crime bill in the 1990s, and I've frequently sought his advice and counsel in the years since."
Other centrist Clinton alums just appointed to prominent Obama administration positions include the new chief of staff, William Daley, and the new director of the National Economic Council, Gene Sperling. The outgoing chief of staff, Ron Klain, had also served in the Clinton White House, as Vice President Al Gore's chief of staff.
---