Pre-existing conditions at forefront of White House's response to health care repeal
(Read article summary)
Pre-existing conditions and small business owners feature the White House's weapon of choice in the fight against health care reform repeal efforts: webcasts.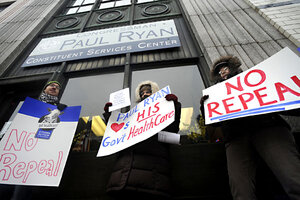 Scott Anderson / Journal Times / AP
Today the Republican-led House is set to vote on repealing President Obama's health care reform legislation. So how are White House officials responding, given that the original health care effort stands as Mr. Obama's signature domestic effort?
They're saying: "Hey gang, let's put on a webcast!"
OK, that's not entirely fair. Obama himself has been pretty tough, rhetorically-speaking, on the issue. "We can't go backward," he said yesterday in a statement about the repeal effort. "Americans deserve the freedom and security of knowing that insurance companies can't deny, cap, or drop their coverage when they need it the most."
But in general the problem for the administration is that it is defending a piece of legislation whose major provisions aren't scheduled to take effect until 2014, and about which the US public remains confused.
So officials are using the classic approach of trying to personalize a complicated policy via individuals' stories. They've been putting one per day up on the White House blog, complete with video of the people in question describing how the health reform bill has affected, or will affect, them.
---