State of the Union 2011: Who is Paul Ryan?
(Read article summary)
Rep. Paul Ryan has been chosen to give the Republican response to President Obama's State of the Union address. Why did Republicans choose this seven-term Congressman from Wisconsin?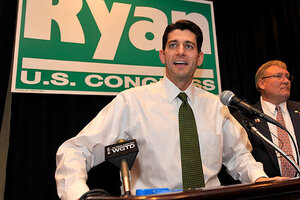 Scott Anderson/journal times/AP
Paul Ryan is "the man with the plan" to save America, in part by making deficit reduction "sexy for the iPod generation."
He's the man who's tangled with President Obama in public a year ago – and won.
He's a Republican who can rattle off a list of his favorite Democrats to work with (see video).
And now Rep. Paul Ryan is the man who'll deliver Republicans' response to Mr. Obama's State of the Union speech Tuesday night.
He may be a seven-term congressman, who's now Chairman of the powerful House Budget Committee, but on first blush Mr. Ryan looks and acts like the average white yuppie dad you'd see tailgating at a Green Bay Packers game in his native Wisconsin.
Quiz: Test your knowledge of the Green Bay Packers
It's that casual, everyman exterior – with a budget-wonk brain – that's made Ryan a Republican up-and-comer.
---
Follow Stories Like This
Get the Monitor stories you care about delivered to your inbox.