Turmoil in Chicago: Rahm Emanuel back on ballot as top court takes case
(Read article summary)
Illinois Supreme Court stays the ruling dropping Rahm Emanuel from the Chicago ballot and agrees to hear his appeal on residency. With the mayoral election in turmoil, anger is voiced at the appellate court ruling.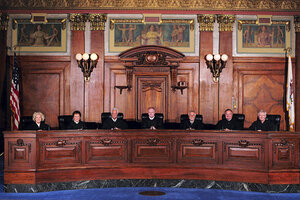 Gregg D/Daniel-Ackerman Photography/AP
Tuesday turned out to be a better day for Rahm Emanuel than Monday, when an Illinois Court of Appeals ruled that he was ineligible to run for mayor of Chicago and his name must be struck from the ballot.
First, the Illinois Supreme Court granted his request for a stay to the appellate court ruling on the ballot – meaning that ballots, whose printing began Tuesday, will carry his name.
Then the court also agreed to hear his appeal of the ruling, though it will not accept any additional briefs or oral arguments.
Now, Mr. Emanuel – who until Monday was the heavy favorite to replace Richard Daley as Chicago's next mayor – just needs the state's top court to agree with two lower courts that he is, in fact, eligible to run for the job, despite living in Washington for much of the last year as President Obama's chief of staff.
---