Why the CBO may not believe all its own deficit projections
(Read article summary)
The CBO predicts a deficit of $1.5 trillion for 2011, but then steadily falling amounts through 2014. Good news? Not really. The CBO had to make assumptions about US policies its officials seem to have little faith will be implemented.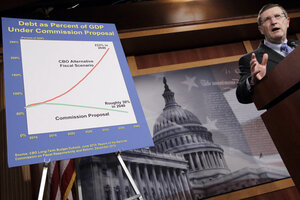 Charles Dharapak/AP
The Congressional Budget Office issued updated figures today that predict the budget deficit for fiscal year 2011 will be a flaming huge $1.5 trillion. That's about $414 billion bigger than the CBO last August figured this year's shortfall would be. And yes, it would be a record in terms of absolute dollar red ink for Uncle Sam.
Things get better in 2012 though, according to the CBO's new budget and economic outlook. Budget deficits would "drop markedly," especially if measured as a percentage of national economic output, according to the report.
With the economy recovering and some government spending programs ending, the 2012 shortfall will be $1.1 trillion, representing about 7 percent of US gross domestic product, say the CBO's budgeteers. In 2013, those figures will be $704 billion and 4.3 percent of GDP, and in 2014 they'll be $533 billion and 3.1 percent of GDP.
That's what the CBO predicts, anyway. But here's the interesting thing: the CBO does not appear to really trust its own deficit projections for 2012 and beyond.
Why is that? Because the CBO can only crunch numbers and make predictions based on existing law. And CBO officials sound as if they do not believe that Congress and the White House will permit a number of scheduled money-saving moves to happen.
Deficit commission plan: Four points of contention – and agreement
The CBO's new figures "understate the budget deficits that would occur if many policies in place were continued, rather than allowed to expire as scheduled under current law," writes CBO director Douglas Elmendorf on his blog.
---