Why Michelle Obama is talking about her husband's gray hair
(Read article summary)
As First Lady Michelle Obama publicizes her chosen issue, childhood obesity, she keeps dropping in humanizing details about her husband. Yes, he has gray hair. And boring fashion sense.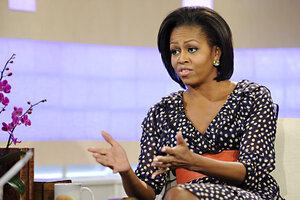 Peter Kramer / NBC Universal, Inc. / AP
Yes, Michelle Obama is the nation's first lady. And lately she's rocked the 'image softener-in-chief' part of her job description.
Mrs. Obama has been conducting a round of TV interviews in recent days, appearing on everything from NBC's "Today" show to the Pentagon Channel to promote her campaign to fight obesity among kids. And at pretty much every stop she has dropped interesting tidbits about her husband that may serve to soften and humanize him at a time when the 2012 campaign is beginning to take shape.
Take gray hair – the president has some. And it's going to stay, since he does not use hair dye. That's what the first lady told Matt Lauer on Wednesday, anyway. Mr. Lauer showed her a series of pictures which seemed to indicate that Mr. Obama's hair was getting suspiciously darker, but Mrs. Obama waved those away.
"It's lighting. No, I think that if he had known he would be president, he would have started dyeing his hair like ten years ago," she said.
The first lady then went on to describe her husband as generally sartorially challenged – someone who finds something he likes and sticks to it, without any flair. By the time she was done, you'd have thought she was married to somebody who worked out of the house wearing slippers and flannel shirts.
---