Mitt Romney at CPAC: The big thing he didn't talk about
(Read article summary)
The possible GOP presidential candidate chided Obama's 'European-style' rule. But in Friday's speech at CPAC, Mitt Romney avoided a topic on which he may be vulnerable: health care.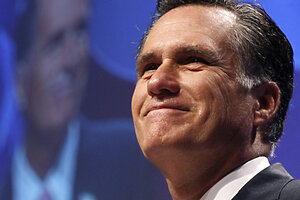 Larry Downing/Reuters
Romneycare? What Romneycare?
In his most-watched speech so far of the embryonic 2012 presidential campaign, Mitt Romney didn't breathe a word about the signature initiative of his term as governor of Massachusetts: the reform of that state's health-care system that includes an individual mandate to purchase insurance.
And, in his address Friday morning to the Conservative Political Action Conference, or CPAC, former Governor Romney barely touched on President Obama's health-care reform, which was modeled on the Massachusetts reform – and, for most Republicans, is a major reason to oppose the president.
Shaking up 2012: US senators who aren't running for reelection
Romney sneaked in a reference to health care in a larger critique of Mr. Obama's "European-style" rule. But that was it for the speech.
"With our economy in crisis, the president and his fellow liberals turned to Europe for their answers," Romney said. "Like the Europeans, they grew government, they racked up bigger deficits, they took over health care, they pushed cap and trade, they stalled production of our oil and gas and coal, they fought to impose unions on all America's workers, and they created over a hundred new agencies and commissions and hundreds of thousands of pages of new regulations."
---