White House change of style: Jay Carney takes podium as new press secretary
(Read article summary)
Former journalist Jay Carney, Obama's new press secretary, briefed White House reporters for the first time, hinting at a style that was less combative and more inclusive than his predecessor's.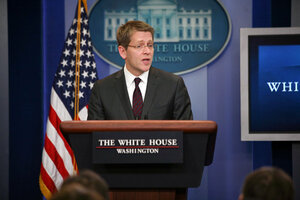 Gary Fabiano/Sipa Press/Newscom
Former journalist Jay Carney faced a packed White House press room Wednesday to deliver his inaugural briefing as President Obama's new press secretary. The 53-minute session was both less combative and more inclusive than some of those presided over by his predecessor, Robert Gibbs, whose term ended Sunday.
"I do work for the president but I am also here to help the press," said Mr. Carney, a former Washington bureau chief for Time magazine who reached deeper into the briefing room than usual to field questions from reporters. His job, he added, was to "give the best information I can give." In response to a question later in the briefing he added that he wanted "to work with you … to get the access that we can give and that you need."
Every seat in the briefing room was filled and reporters and photographers crowded into the aisles to watch Carney's initial briefing. "I really appreciate the turnout," Carney said dryly as he took the podium. "I have never seen this room this crowded."
IN PICTURES: Inside President Obama's White House
---
Follow Stories Like This
Get the Monitor stories you care about delivered to your inbox.