Wisconsin union fight: Which side does US public support?
(Read article summary)
Latest poll shows the US public split over limiting collective bargaining for public employees, as Wisconsin Gov. Scott Walker is urging. Some previous polls give the edge to the unions.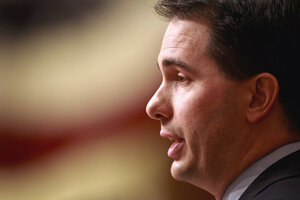 Andy Manis/AP
American voters are split as to whether the collective bargaining rights of state public employees should be limited in the name of deficit reduction, according to a Quinnipiac University poll released Wednesday.
Forty-five percent of respondents to the survey said they would support curbing such rights to save state governments money. Forty-two percent said they would oppose limiting collective bargaining.
Republicans were much more likely to favor reductions in public union bargaining rights, according to Quinnipiac results. Fifty-nine percent of respondents who identified themselves as pro-GOP supported union limits, while only 33 percent of self-described Democrats agreed.
IN PICTURES: Wisconsin protest signs
"There is a partisan tinge to American voter attitudes toward government workers: By wide margins, Republicans say these workers are overpaid, want them to pay more for their benefits, and want to limit collective bargaining," said Peter Brown, assistant director of the Quinnipiac University Polling Institute.
Will the results of this and other recent national polls affect the bitter fight over collective bargaining that's brought Wisconsin state government proceedings to a halt? We doubt it – at this point the thing seems to running on emotion. Neither GOP Gov. Scott Walker nor the Wisconsin Senate Democrats who have fled the state to avoid a vote on collective bargaining limits are sitting around reading survey results while plotting the day's strategy.
---