Wisconsin collective bargaining: Will Walker win the battle but lose the war?
(Read article summary)
Wisconsin standoff: As Gov. Scott Walker ratchets up the stakes, preparing to lay off 1,500 state workers to win the battle against the unions, he may be losing the war of public opinion.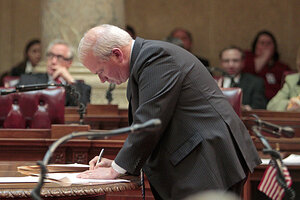 Andy Manis / AP
The siege of Wisconsin continues – Republican Gov. Scott Walker and 14 absent Democratic state senators remain in a standoff over a budget bill that would strip most public union workers of collective bargaining rights.
This thing has been going on for over two weeks now. Who's winning?
The better question might be, is anybody winning?
Walker's budget is still stuck in the legislature. The footloose Democrats are camped out across the border in Illinois, without the comforts of home. Public employee unions, which have already agreed to wage and benefit cuts, now face layoffs. Meanwhile, national polls generally show that the US public doesn't approve of eliminating collective bargaining for public workers – as GOP lawmakers are moving to do in Indiana and Ohio, as well as Wisconsin.
That's kind of a mess, winner-picking-wise.
---