No birth certificate? Is 'Donald Trump' a real person?
(Read article summary)
It turns out that what newly converted 'birther' Donald Trump released with much fanfare is not an official birth certificate. What does that say about his identity, and possible presidential bid?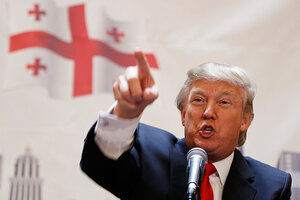 Lucas Jackson/Reuters
Developer/reality show star Donald Trump yesterday released his birth certificate to prove he was born in the United States. Except it wasn't his birth certificate – it was a birth document from a Queens hospital that is less than official, apparently.
Oops. Is now a good time to ask how that possible presidential race is shaping up, Mr. Trump?
Anyway, this whole thing is an issue (or an issuelette, maybe, since we're not exactly talking Libya) only because Trump has been raising questions about whether President Obama was born in the US.
On Monday Trump said on Fox News that he is "really concerned" about Obama's citizenship status. It is "inconceivable", he said, that after all this time Obama hasn't released his birth certificate.
RELATED: The Top 10 political quotes of 2010
---