Why Republican voters are warming to Donald Trump for 2012
(Read article summary)
'The Donald' has a 52 percent favorable rating among Republicans, a new poll shows. Because Donald Trump acts like the boss, voters may be inclined to think of him that way.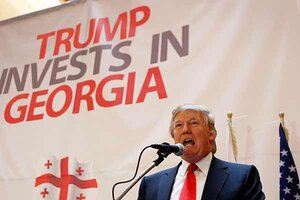 Lucas Jackson/Reuters
Developer/reality show star Donald Trump appears to be pretty popular with Republican voters right now, in case you haven't heard. He tied for second with Mike Huckabee, behind Mitt Romney, in a recent Wall Street Journal/NBC poll that measured the presidential nomination preferences of GOP voters. And he's got a 52 percent favorable rating among Republicans in a just-released Gallup survey.
Why is he doing so well among adherents of the GOP? Perhaps because he's running as if he were already the party's boss, as opposed to the other candidates, who may seem like applicants for the job, comparatively speaking.
Mr. Trump's CEO-like forcefulness has been on full display in his recent spate of television interviews. What do we do in Iraq? Stay and keep the oil! How do we handle China's rise? Slap a 25 percent tariff on Chinese goods! Was President Obama born in America? There's no proof – and I'm sending investigators to Hawaii to check into the story!
---