Who won and who lost with the FY 2011 budget deal?
(Read article summary)
Most seem to think Speaker John Boehner did particularly well. He cut the FY 2011 budget a lot more than Democrats wanted, and he wrangled most of his rambunctious freshmen into order.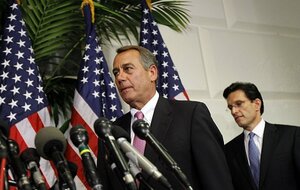 Alex Brandon/AP
Now that the dust is settling from Friday night's Perils-of-Pauline budget deal averting a federal government shutdown, the posturing and punditry over "who won" is coming fast and thick.
Within party ranks, the analysis is mostly predictable.
Republicans are rallying around Speaker John Boehner, who managed to wrangle his rambunctious caucus into some kind of order – especially the 87 tea party-fueled freshmen itching to whack huge chunks out of federal spending.
"We have…forced the Senate's hand and will require them to take an up-or-down vote on repealing ObamaCare and on de-funding Planned Parenthood, the nation's largest provider of abortions," Rep. Jack Kingston (R) of Georgia said in a statement. "We have blocked the increased funding for the Internal Revenue Service and banned taxpayer funding of abortion in the District of Columbia. While this package isn't a good year's work, it certainly is a good day's work."
---