Did Sarah Palin just join Donald Trump as a 'birther'?
(Read article summary)
Sarah Palin says she believes President Obama was born in the US. But she's cheering on Donald Trump for 'getting to the bottom' of allegations by 'birthers' that Obama is hiding something.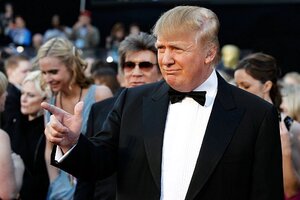 Matt Sayles/AP
Forget primary elections and party caucuses. In many ways, the long, strange trip to picking major party presidential candidates is one of self-selection.
How so? Like how they focus attention on themselves in ways that appear – how to put this delicately – obsessively weird.
Which brings us, quite logically, to Donald Trump and Sarah Palin.
The billionaire developer and reality show star has been going on and on about President Obama's place of birth, claiming now that he's sent investigators to Hawaii to find out the truth. And now he's gotten into a snit with a New York Times columnist over the subject.
Hello? Did Trump not think that his hometown newspaper might find what seems at the moment to be his main campaign issue…obsessively weird?
In her typically funny op-ed column, Gail Collins at the New York Times had had it with Trump.
"In a potential Republican field that includes Michele Bachmann, Sarah Palin and Newt Gingrich, it's hard to come up with a line of attack loopy enough to stand out from the pack. But darned if Trump didn't manage to find one," she wrote the other day.
---