House to vote today on budget. Hey – didn't they do that yesterday?
(Read article summary)
No, the House will not be repeating Thursday's vote on the budget for fiscal year 2011. Nor is it passing a budget for fiscal year 2012. Friday's vote is more – and less – than that.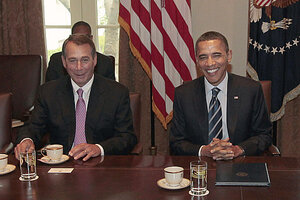 Pablo Martinez Monsivais / AP
The Republican-controlled House of Representatives Friday will hold a big vote on a plan to slash billions of dollars from the federal budget.
Hold it a second – didn't they do that yesterday? It was all over the news – lawmakers on Thursday had a big vote on a bill that squeezed $38 billion out of Uncle Sam's spending plans. It passed, by a vote of 260 to 167.
Are they reenacting the movie "Groundhog Day" in Washington, with everybody doing the same thing over and over until Bill Murray wakes up and sees his shadow? Did the danged bill get lost in traffic on its way to the White House, and now they have to pass it again so President Obama has something to sign?
No, and no again. They're voting on something different today. It's all part of a US federal budget process that's as confusing as a teenager's excuses and more tangled up than the syntax of Charlie Sheen.
We'll try to explain. On Thursday, the House passed a bill that funds the US government for fiscal year 2011, the one that's already occurring. That's right – only in Washington do they keep fighting past fiscal deadlines and then make adjustments to a budget that government managers are already implementing. It's a little bit like changing the size of the ice rink after the hockey game has started.
The bill that's already passed is the one that President Obama and Speaker John Boehner have struggled over for so long. If it hadn't passed, the government would have shut down because all their temporary funds would have expired. In the end, neither side got everything they wanted.
"Welcome to divided government," said Speaker Boehner, following Thursday's vote.
---