Why Arizona governor vetoed gun law and 'birther bill,' irking the right
(Read article summary)
Jan Brewer, Arizona governor, surprised conservatives by vetoing a bill to allow guns onto college campuses and a 'birther bill' to require certain proofs of US citizenship for presidential candidates.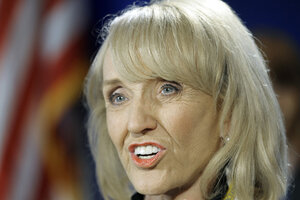 Cliff Owen/AP
Jan Brewer, liberal hero?
Granted, the moniker doesn't exactly fit. After all, this is the Arizona governor who has championed conservative causes from immigration crackdowns to gun rights. But on Monday, she vetoed two pet pieces of legislation of the right: a bill that would have allowed firearms onto parts of college campuses and another referred to as the "birther bill," which would have mandated certain "proofs" of US citizenship for candidates running for president.
Both bills were controversial, and Governor Brewer's vetoes were a setback for the conservatives who control the Arizona legislature.
In explaining her decisions, Brewer called the "birther bill" "a bridge too far" and said she vetoed the campus gun law because it was poorly written.
In its original form, the gun bill would have allowed concealed weapons into campus buildings and classrooms. But after it caused a furor, the measure was scaled back to allow weapons – open or concealed – in public "rights of way" on campuses. In her veto letter, Brewer said the parameters of what was allowed weren't sufficiently defined.
---