David Stockman takes President Obama and Rep. Paul Ryan to the woodshed
(Read article summary)
Back when he was Ronald Reagan's budget director, David Stockman got "taken to the woodshed" for his candid comments about Reagan's tax cuts. Now, he says both President Obama and Rep. Paul Ryan are playing class warfare with taxes.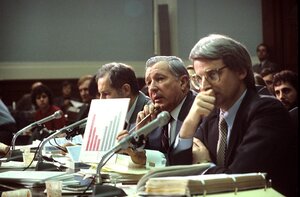 Newscom
If you remember anything at all about David Stockman, it's probably his being "taken to the woodshed" when he was Ronald Reagan's budget director.
That was back in late 1981 when he gave a long interview to William Greider for the Atlantic magazine. In a piece titled "The Education of David Stockman," the young former congressman from Michigan acknowledged that Reagan's tax cut was "a Trojan horse" to bring down the top tax rate.
"The supply-side formula was the only way to get a tax policy that was really 'trickle down'," he told Greider. "None of us really understands what's going on with all these numbers."
The White House was not happy – senior aides trotted him off to the press room to recant, sort of.
But he lasted through Reagan's first term, then went off to become a successful businessman. He also wrote "The Triumph of Politics: Why the Reagan Revolution Failed" – mainly a slam at Republicans in Congress for their failure to push for deep budget cuts. The result of tax cuts without accompanying cuts in government spending were rising deficits.
Sound familiar?
---